350080, Krasnodar city,
Simferopol street, h

ouse № 62
Tel/Fax: 8(861) 236-25-50,
236-24-61, (495) 989-23-10
E-mail: t33367@mail.ru
Machining services and manufacturing of gears and sprockets
We offer metalworking services on machines-tool:
milling

machine-tool

lathe

machine-tool

carousel

machine-tool

grinding machine-tool

heat treatment
Services for the production of gears and sprockets
Plant YUGMASH present to Your attention a list of technical capabilities for the production of various types of gears.
The cost of manufacturing is calculated individually.
Applications are accepted in the form of drawings, sketches, and samples.
Bevel gears with a circular tooth
Technical capability:
mmax                       Ømax
16                           800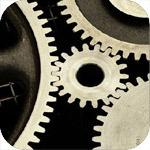 Cylindrical straight-toothed gears
Technical capability: mmin                    
mmax                         Ømax
0.8                         10           800
 Cylindrical gears  oblique:
Technical capability: mmin                        mmax   Ømax
0.8                         10           800
Bevel gears with a straight tooth
Technical capability: mmax                    
   zmax     Ømax
10                           200         500
                            

Gears with internal gearing

Technical capability:mmin                    

    mmax                   hmax                    Ømax

0.8                         12           350         1250

                            

Worm gears

Technical capability:

mmin                      mmax   Ømax

0.8                         10           800

       

                              

Reducers

Production according to customer's drawings, up to 6 accuracy class

     

Grinding of the tooth of cylindrical gears is carried out on Swiss equipment